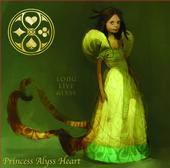 Alyss Heart is the queen of Wonderland. She is the daughter of
Queen Genevieve Heart
and King Nolan, the niece of
Redd Heart
, and the love interest and (as of ArchEnemy) the fiancé of
Dodge Anders
.
Description
Edit
Alyss is described as being beautiful and slim, with black hair. When she was younger, her hair had been long, but her adopted mother made her cut it short when she entered our
Ad blocker interference detected!
Wikia is a free-to-use site that makes money from advertising. We have a modified experience for viewers using ad blockers

Wikia is not accessible if you've made further modifications. Remove the custom ad blocker rule(s) and the page will load as expected.